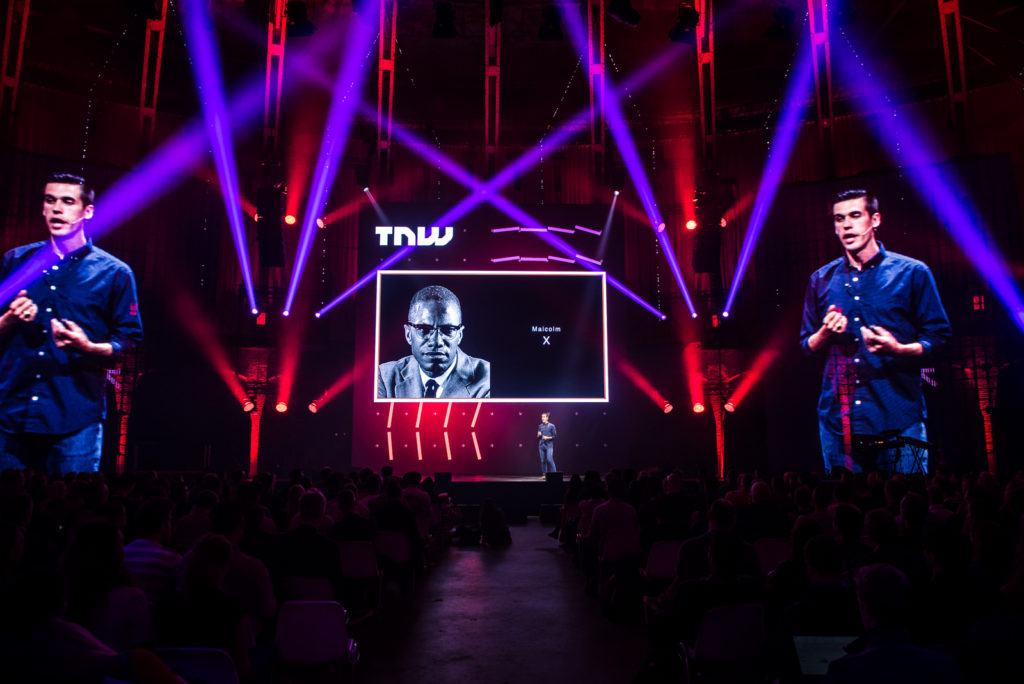 For speaking engagements, please contact me at [email protected] and cc my speaking agent Gord Mazur ([email protected]) at The Lavin Agency.
One of the great and unexpected privileges of writing books is the opportunity to take that message directly to large groups of people and discuss the ideas in person, in depth. Each one of my books covers a different topic and been generated different conversations:
Trust Me, I'm Lying — has been the opportunity to discuss how messages spread, the ethics of marketing and journalism, and this new era of fake news (and has led to talks to the Young President's Organization, USC, Yale, Google, TheNextWeb, the American Marketing Association, Berlingske Media, Editions Infopresse, and the National Pork Producers Council)
Growth Hacker Marketing — has been the opportunity to discuss the new marketing tactics pioneered by startups and tech unicorns at places like Pernod Ricard, The Art of Marketing in Toronto, Vlerick Business School in Belgium, Mastermind Talks, McGraw Hill, the marketing arm of the USMC, College and University Public Relations Association of Pennsylvania, and a number talks throughout Norway as part of their government sponsored innovation program.
The Obstacle Is The Way — looks at the timeless art of turning trials into opportunities to grow and improve and which made its way through professional sports talks led to talks for the Texas Rangers, the Atlanta Braves, the University of Alabama football team, Google, Simple Green, GE, the Calgary Chamber of Commerce, Moss Adams, Entrepreneurs Organization's summit in Berlin and a popular TEDx talk at the University of Chicago among many others.
Ego is the Enemy — which examines the destructive effects of ego inside organizations and aims to replace it with humility and quiet confidence has led to talks at Nike, LinkedIn, Google, Qualcomm's headquarters, Keller Williams headquarters, Fairway Mortgage, True Value Hardware, HSBC, Anytime Fitness, Heartland Payment Systems, Teneo Strategy, Entrepreneurs Organization in San Diego, the Brainwash Festival in Amsterdam and Colorado and Virginia Tech Men's Basketball and Athletic Department.
The Daily Stoic was the closing keynote of 2016's Stoicon (the largest gathering of students of Stoic philosophy in history), a talk at the 92nd St and presented at Fortune's Scale Up Summit.
Perennial Seller which is about the art of making and marketing products that last (instead of chasing fads or trends) launched with two internal talks inside Penguin Random House, the largest book publisher in the world as well as a talk to the Clive Davis School of Music at NYU, Baton Rouge Entrepreneur Week, and EO Denver.
In all I've been honored to speak hundreds of times in more than a dozen countries (Finland, Austria, Australia, Brazil and everywhere in between), in wonderful cities (Sao Paulo, Miami, Montreal, Tromso, Oklahoma City, Seattle, London, Dublin, Perth, Bangkok, both to large crowds and very small, private groups, keynoted conferences and done fireside chats. I've done 10 hours live on camera, I've lectured at many universities and colleges including NYU, USC, Columbia, Yale, and the University of Toronto. I've also written about the art of persuasion and public speaking here. You can contact Lavin for testimonials, videos and rates.
Below are some videos produced by Lavin about some of the topics I discuss in my speeches.