Books and Courses
I've written 10 best-selling books, covering topics like philosophy, marketing, history, and how to live well. Below you can find a list of all my books, along with links for purchasing them online—and for my Stoic works, you can purchase a signed and personalized copy as well. And for a truly unique purchase, you can purchase the limited leather-bound edition of The Daily Stoic (currently on back-order until mid-November 2020). 
At Daily Stoic, my site about Stoicism and philosophy, we've also put together a number of courses and challenges designed to test your limits and push you to excel in the things that matter most. Learn more about those below as well.
Books on Stoicism
The Obstacle Is the Way: The Timeless Art of Turning Trials into Triumph
My first book on Stoicism, The Obstacle Is the Way tells readers how to turn their thinking upside down and revisualize their obstacles as opportunities to persevere and excel.
Buy it now ( Amazon | Barnes & Noble | Bookshop | Get it signed and personalized )
Ego Is the Enemy
As the author Cyril Connolly once said, "Ego sucks us down like the law of gravity." In this book, the second in my series on Stoicism, I explore how Ego poses a threat to one's goals—and how to fend it off, whether you've achieved success or hit rock bottom.
Buy it now ( Amazon | Barnes & Noble | Bookshop | Get it signed and personalized )
Stillness Is the Key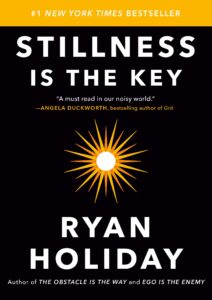 The third book in my Stoic trilogy, I explain how an inner sense of calm and stillness is critical to achieving your goals and putting in the best performance.
Buy it now ( Amazon | Barnes & Noble | Bookshop | Get it signed and personalized )
The Daily Stoic: 366 Meditations on Wisdom, Perseverance, and the Art of Living 
The first page-a-day book on Stoicism. Each day features a different quote from a preeminent Stoic philosopher, along with an exploration of the ideas raised by the quote. The months are grouped thematically to help you get a complete and thorough understanding of Stoicism.
Buy it now ( Amazon | Barnes & Noble | Bookshop | Get it signed and personalized | Get the leather-bound edition )
The Daily Stoic Journal: 366 Days of Writing and Reflection on the Art of Living
A great companion to The Daily Stoic. This journal features three prompts, guided by an insightful Stoic quote, for every day of the year. Take your study of Stoicism to the next level.
Buy it now ( Amazon | Barnes & Noble | Bookshop | Get it signed and personalized )
Lives of the Stoics: The Art of Living from Zeno to Marcus Aurelius
My newest book, Lives of the Stoics goes in-depth into the lives and practices of the great philosophers who defined and popularized Stoicism. From key figures like Marcus Aurelius and Epictetus to lesser-known Stoics like Agrippinus and Thrasea, I walk through their contributions to the philosophy and how they continue to inspire us today.
Buy it now ( Amazon | Barnes & Noble | Bookshop | Get it signed and personalized )
Books on Marketing and Media
Trust Me, I'm Lying: Confessions of a Media Manipulator
My very first book, Trust Me, I'm Lying discusses the 21st century media ecosystem—how it works, who benefits from it, and how to manipulate it. I discuss the PR stunts and disruptive strategies I used to manipulate the media and garner publicity for my clients, and what it all means for our increasingly-online society.
Buy it now ( Amazon | Barnes & Noble | Bookshop )
Growth Hacker Marketing: A Primer on the Future of PR, Marketing, and Advertising
In Growth Hacker Marketing, I explain how to build the kind of explosive growth that can turn a product launch into a massive event, or transform your app into the next Silicon Valley unicorn. I discuss the strategies I've used to get people hooked on my clients' services, and how you can utilize them.
Buy it now ( Amazon | Barnes & Noble | Bookshop )
Perennial Seller: The Art of Making and Marketing Work that Lasts
I spend a lot of time reading, and I've often wondered while reading a classic work, "What gave this such staying power?" In Perennial Seller, I explore what gives a product or a project staying power, and I help readers find those insights for their own work.
Buy it now ( Amazon | Barnes & Noble | Bookshop )
Conspiracy: Peter Thiel, Hulk Hogan, Gawker, and the Anatomy of Intrigue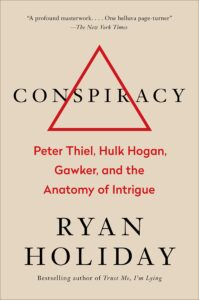 In 2016, Gawker Media was destroyed by a defamation lawsuit filed by Hulk Hogan. During the trial, it became evident that billionaire Peter Thiel had funded the lawsuit to destroy Gawker. I spent time interviewing Thiel, Nick Denton (the founder of Gawker Media), and the other people whose lives were shaped by the lawsuit. The result: Conspiracy, perhaps my favorite book I've ever written.
Buy it now ( Amazon | Barnes & Noble | Bookshop )
My Courses
Alive Time Challenge
We released this course at the onset of the 2020 COVID-19 pandemic to help anyone who felt unnerved or shaken by the new challenges that the pandemic brought with them. It is our most popular challenge every, with thousands of participants who now feel ready to face the future.
Read to Lead: A Daily Stoic Reading Challenge
For me, reading isn't a diversion or a way to kill time—it's part of my job, the way that I learn what and how to write, the way that I improve my own life. I wanted to share my process and the insights I've learned with fans of Daily Stoic. The results: one of our most popular courses. Features over a hundred book recommendations, challenges that will push you to excel as a reader and become a leader, and more.
Taming Your Temper: The 11-Day Stoic Guide to Controlling Anger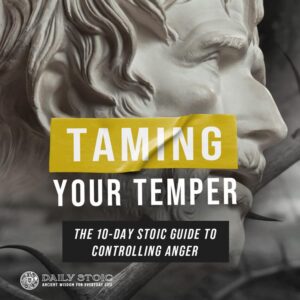 Everyone gets angry sometimes. But there are some people who can't seem to hold back from  a provocation or let go of a grudge. We created this course to help anyone with an anger problem relinquish it permanently. Techniques distilled from the wisdom of the Stoic philosophers will help you take back control of your emotions and make life easier for you and your family.
Habits for Success, Habits for Happiness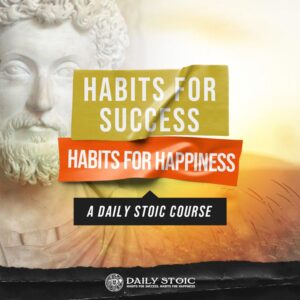 The way you start the day, the routine by which you accomplish your tasks, the manner in which you prepare for the future: these are all affected by your habits. Good habits can make the hardest tasks seem simple; bad habits cause the smallest issues to derail your efforts. This course, our longest yet, will put you through a six-week habit boot camp. Whether you don't know the best habits or you want to lose some of your worst ones, this course is perfect for anyone.
Slay Your Stress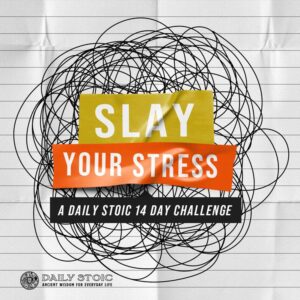 It's hard to manage anxiety when there are so many stressors out there: money, work, family, school, politics, and more. But if we don't deal with our stress, it makes us less effective, irritable and unable to get anything done. We created this course so that you could learn effective, time-tested methods of coping with—and eventually eliminating—your stress and anxiety.
The Stoic Parent: 10 Commandments For Becoming A Better Parent
As a parent, your most important job is raising your kids the right way. But how do you figure out what exactly you need to teach your kids? It's not always easy to know. That's why we created this parenting course, based on tried-and-true parenting tactics from some of the smartest, most virtuous people in history. You'll learn the 10 Commandments of Parenting, the ultimate guideposts to orient your parenting around, and will be able to forge a stronger connection with your children.